Dental Implants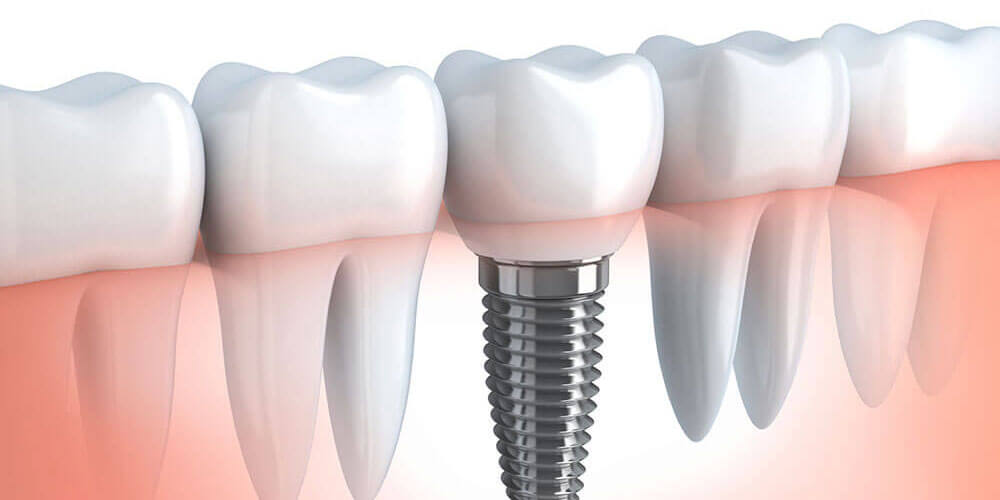 Implants are designed to replace the root of a missing tooth and can be used to support crowns, bridges, or dentures.
A dental implant is made of titanium, and looks like a screw. It is placed in the jawbone, where it osseointegrates (fuses with the natural tissue surrounding it). After a healing period, the implant will be ready for an abutment, a connector that links implants and restorations. Once in place, your implant will successfully pair with crowns, bridges, partials, or dentures. If the missing space is not filled, the teeth surrounding the space often drift, and the opposing teeth in the other arch will erupt further into the oral cavity (hypereruption) which can change your bite, lead to possible bone erosion in the area, and even affect your speech.
Are you a good candidate for Dental Implants?
Certain aspects of your health must qualify for dental implant placement. Your dentist will help you reach the necessary level of health with preparatory treatments if needed.

Bone density – In order for implants to successfully integrate with your bone, there must be enough bone remaining at the site. If your bone requires enhancement, a bone graft procedure might be needed before placing the dental implant.
Oral health – Your teeth must be cavity-free and your gums clear of periodontal disease.
General health – Since the implant placement is surgical, it is important to ensure that your level of general health will see you through the procedure and allow for proper healing.
Dental implants require the same care as real teeth, including brushing, flossing, rinsing with an antibacterial mouthwash, and regular dental check-ups.
The root-form implant is the most common type and basically consists of three main components:

Implant screw – This part of the implant is made of titanium and is surgically placed in the bone. Titanium is accepted by the body extremely well and fuses with the bone (called osseointegration) during the healing process.
Abutment – This is a metal collar that attaches to the top of the implant screw and is the base for a crown, bridge, or denture.
Crown - The crown is the manufactured tooth that fits on top of the abutment. Bridges and dentures can also be secured to the abutment. The placement of the crown, bridge, or denture is the final step of the implant process.
What are the advantages of Dental Implants?
Dental Implants are a popular choice for replacing missing teeth, mainly because of a few advantages they have, including:

Dental implants look and feel like your own teeth. And because they are designed to fuse with bone, they become permanent.
Dental implants allow you to speak without the worry that teeth might slip.
Dental implants function like your own teeth, allowing you to eat your favorite foods with confidence and without pain.
Dental implants can give you back your smile and help you feel better about yourself.
Because nearby teeth are not altered to support the implant, more of your own teeth are left intact, improving long-term oral health. Individual implants also allow easier access between teeth, improving oral hygiene.
Implants are very durable and will last many years. With good care, many implants last a lifetime.
Commonly asked questions about Dental Implants
What will happen without replacing your missing tooth?
Your jawbone begins to shrink from lack of stimulation. Losing your teeth will affect your smile and change the shape of your face, causing you to look prematurely aged. Teeth next to the missing tooth can also become loose over time.
Who is a dental implants candidate?
Dental implants can be placed in most healthy adults. Your dentist will be able to tell you after a checkup if dental implants are right for you.
Is implant placement painful?
No, dental implants are typically placed under local anesthesia. Most treatments can be completed in your dentist's office.
How soon can I return to work after treatment?
Most people return to work the next day unless otherwise advised by the dentist. You may be prescribed medication to alleviate any minor discomfort you may have.
How does the long-term value of implants compare to other treatment options?
Dental implants are low maintenance and provide stability and confidence in your smile. Therefore, the long-term value of dental implants far exceeds conventional treatment options. They are also more comfortable as they are permanent as don't move as you eat or talk.
Tooth Restoration with Dental Implants in Edmonton
Sleep Dentist Implants
Appearance
Besides good function, the ideal replacement must look like your natural teeth both to you and to others. Dental implants offer multiple possibilities to improve your smile.
Confidence
The ideal replacement for your missing teeth must also feel like natural teeth and be easy to clean. Knowing your teeth are stable during eating and talking means a lot.
Security
Replacing your lost teeth with dental implants is well established modality and we will discuss with you a treatment plan for long term results, including risks, benefits, and alternatives.
THE CLOSEST REPLACEMENT TO NATURAL TEETH
Chances are, whether you have lost one tooth or several teeth, whether it is a new situation or something you have lived with for years, you have never become fully accustomed to losing such a vital part of yourself. Now you can have replacement teeth that look, feel, and function like natural teeth with sleep dentist implants.
DURABLE AND STRONG
Advances in dental science allow your dentist to offer artificial tooth roots which integrate with the jawbone to form a secure foundation for tooth replacement. This concept for oral rehabilitation was developed in the late 1970s by a Swedish scientist and orthopaedic surgeon, Professor Per-Ingvar Brånemark.
MANY TREATMENT OPTIONS
Whether it is single crown implants, bridge implants, or anchor points for dentures; traditional implants provide firm points of contact to allow for multiple restoration options that maintain the look of natural teeth while minimizing discomfort.
TEETH-IN-A-DAY TECHNIQUE
Twilight Dental Group is proud to offer full arch restoration involving replacing all of the teeth from either the upper arch, lower arch or both. The entire procedure can usually be done under sedation and completed in only one day, including removal of any existing teeth, implantation and the fitting of your new non-removable teeth.
LEARN MORE ABOUT TEETH-IN-A-DAY
Appearance, Confidence, Security…
Sedation Dentistry for Dental Implants in Edmonton
Please book an appointment with our dentists to see if dental implants are the right option for you. Twilight Dental Group provides excellent dental implant services to our patients in Edmonton.
If you are looking for a dentist in Edmonton for please call us at
(780) 429-1711
or
book an appointment
online.
Book Online
Twilight Dental Group offers the ability to request your dentist appointments online. Schedule an appointment now!
Book Online
New Patient Forms
By filling out the New Patient Forms ahead of time you will save significant time on your visit.
New Patient Forms