Teeth in a Day
Implant Dentist Edmonton
Full arch restoration involves replacing all of the teeth from either the upper arch, lower arch or both. The entire procedure can be completed in only one day, including removal of any existing teeth, implantation, and the fitting of your new non-removable teeth.
Permanent Teeth in a Day...
What a Difference a Day Can Make! Dental Implant Sedation in Edmonton
SINGLE-DAY PROCEDURE
Leveraging dental anesthesia and using the Permanent Teeth in a Day technique, Twilight Dental Group can install full upper and/or lower teeth in just one day. Discomfort is minimal, recovery time is short, and scheduling is easier versus multiple visits over the course of half a year.
THE LOOK AND FEEL OF NATURAL TEETH
The Teeth in a Day technique results in non-removable arches without extreme aspects of traditional implants such as bone grafting, giving your smile a natural look to others and a normal feel in the mouth. They also do not have issues such as sore spots or slipping as is common with dentures.
DO NOT COMPROMISE WHAT YOU EAT
Just like implants, and unlike dentures, All-On-X technique preserves much of your natural chewing and biting ability, ensuring you do not have to limit the foods you can eat and enjoy meals right away.
PROVEN PROCESS TO RESTORING YOUR SMILE
The Teeth in a Day technique was developed by Dr. Paulo Malo specifically for full arch restoration and has been successfully employed across the world for almost 30 years.
Twilight Dental Group is a partner of Chrysalis Dental Centres.
Many Treatment Options
Dental Implant Sedation
Dental Implants offer many benefits over other tooth replacement options. The ideal replacement would function, look and feel like natural teeth and potentially come with a lifetime of use. Dental Implants bring renewed confidence and peace of mind.
REPLACEMENT OF A SINGLE TOOTH
If you are missing a single tooth and desire to replace it without having healthy neighboring teeth ground down to support a bridge or using a removable prosthesis, dental implants may be an option. A dental implant replaces both the lost root and crown of the natural tooth.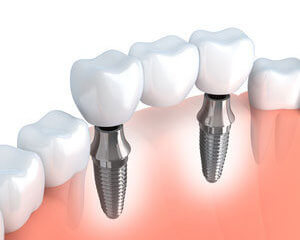 REPLACEMENT OF SEVERAL TEETH
If you have lost several teeth, replacing them with dental implants is an alternative that is not dependent on the support from adjacent teeth, as is the case with bridges and partial dentures. Call us today, we can discuss your options, as well as, associated risks, benefits and alternatives to dental implants.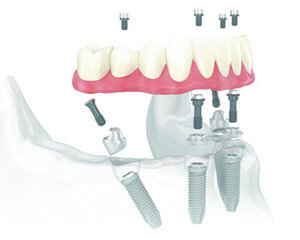 REPLACEMENT OF FULL UPPER AND/OR LOWER TEETH
If you have lost all your teeth in your upper and/or lower jaw, a full denture may work for the short term. But, without tooth roots, the jawbone slowly resorbs, or shrinks, causing the denture to lose its snug fit. This can lead to potential discomfort. A gradual loss of jawbone can also change the shape of your face and your appearance.
Dental implants, integrate with the jawbone, keep the bone healthy and your teeth securely in place. Once implants have been placed in your jaw, they can be restored with fixed bridgework or over-dentures. A fixed bridge is permanently secured to the implants, while removable over-dentures are held in place by a bar and clip or by one of many other attachments currently available.
A technique, called All-On-X or Permanent Teeth in a Day, is available for the placement and restoration of full arches of upper and/or lower teeth.
If you are looking for a dentist in Edmonton for please call us at
(780) 429-1711
or
book an appointment
online.
Book Online
Twilight Dental Group offers the ability to request your dentist appointments online. Schedule an appointment now!
Book Online
New Patient Forms
By filling out the New Patient Forms ahead of time you will save significant time on your visit.
New Patient Forms